Discover Aegina using Ostria as your springboard…
Aegina is not any island. It is one of the points of the triangle formed between the island, Delphi and Acropolis, just as it forms a triangle with Acropolis and Sounio, creating a 'magnetic field' that makes Aegina irresistible. Apart from its place in the centre of the Argosaronic Gulf and the proximity to the capital of Greece, it occupies a special, irreplaceable spot in the hearts of artists and literary writers, Greek and foreigners who return devotedly year after year. It is one of the most attractive destinations in Greece as it offers a wide spectrum of possibilities and covers every traveller profile.
---
Trekking on Mt. Ellanion
Wonderful trekking starting from Ostria so you see for yourself that the natural beauty of Aegina is not restricted to the sea. Stroll in the Valley of Eleonas (olive grove) and at the end of the trail discover the ruins of the temple of Ellanios Zeus. Delight yourself in the spellbinding view from above. Search for the old monastery of Panagia Chrisoleontissa on the central plateau of the island. Discover the mountain villages of Anitseo and Pachia Rachi.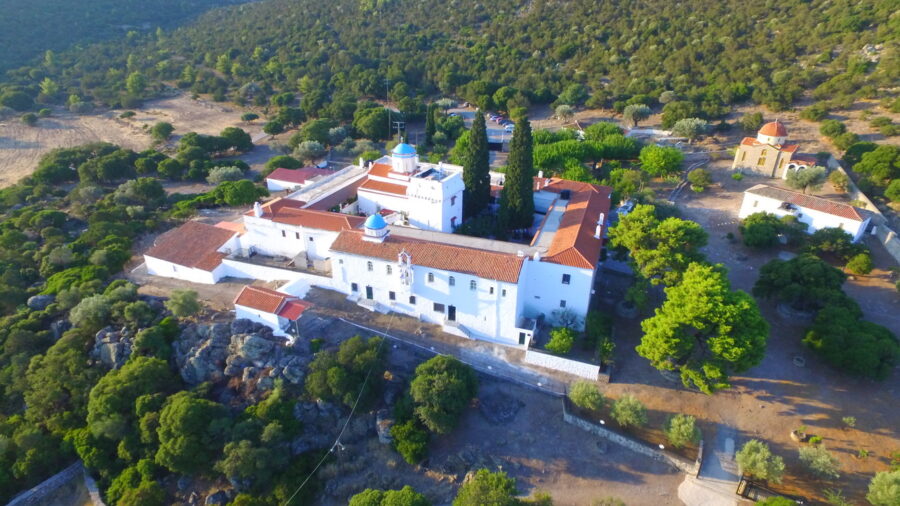 ---
A stroll in Aegina
The picturesque little streets wind through well preserved neoclassical buildings and lead you to the House of Kapodistria, the church of Saint Nikolas, the building of the Orphanage, the Markellos Tower, the Cathedral built in 1806, the Historical and Folklore Museum and the Christos Kapralos Museum. You are not far from Kolona. Imposing, the only surviving column from the 6th century BC temple of Apollo, stretching to the sky from the top of the hill, at the foot of which is the Archaeological Museum. Expose yourself to exhibits from the Neolithic period to Roman times and marvel at the Sphinx of Aegina as well as sculptures and reliefs from the Temple of Aphaea.
---
A day in Agia Marina and the Temple of Aphaea
Enjoy the waters, the vivacity of the village day and night, the suggestions for entertainment untill the sun comes up and don't forget to visit the Temple of Aphaea Athena, one of the best preserved Doric style temples of early 5th century BC that was the prototype for the construction of the Parthenon and many other important temples of the period. Remember also to visit the medieval city of Paleochora, also called the island version of Mystras, and the monastery of Saint Nectarios.
---
Relaxation on beaches, in quaint villages and fishing villages
Visit charming Perdika by car or boat and cross to the isle of Moni where dears, wild goats, peacocks and squirrels come to you to feed them. Swim everywhere: Souvala, Portes, Aeginitissa, Vaya, Agia Marina, Klima, Kleidi and of course at the Marathon beach right at your feet in front of Ostria.